EXILE: A Tribute to Supergiant Games
May 31, 2019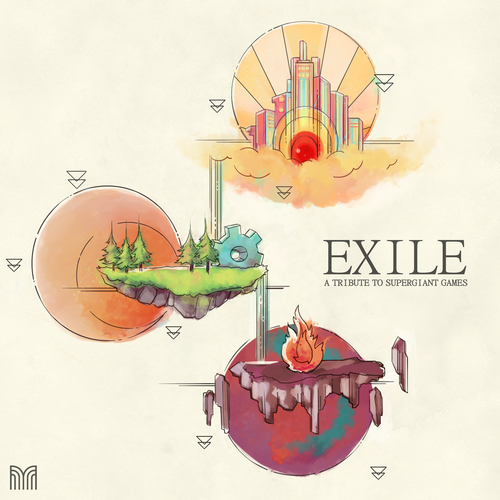 For the last 10 years, Supergiant Games have produced brilliant games such as Bastion, Transistor and Pyre. The striking artwork, memorable characters, emotionally arresting storylines, fantastic music, iconic voice-overs and immersive sound design have made Supergiant Games' entries stand out in the crowd.
Because of the studio's impact on the indie game scene over the last decade, as well as fan's deep love for Darren Korb's music, Materia Collective is proud to announce the 2019 release of EXILE: A Tribute to Supergiant Games. This album is a veritable love letter to Korb's musical soundscapes and Supergiant Games' fantastic storytelling.
The video game community has a lot of love for Indie darling Supergiant Games and not without good cause. The genres and gameplay of their games run the gamut of post-apocalyptic western frontier action rpg Bastion, neo-noir inspired strategy slasher Transistor, and visual novel ceremonial sportsball redemption story Pyre. With EXILE: A Tribute to Supergiant Games we wanted to reflect the diversity of those styles in our musical tribute to the original material.
With EXILE: A Tribute to Supergiant Games we wanted to reflect the diversity of styles in our musical tribute to the original material. As a result EXILE features 49 tracks spanning the original soundtracks of Bastion, Transistor, and Pyre. The album features musical styles ranging from big band, acapella, cosmic space rock, 90s grunge, string quartets, brass quintets, hard rock and a number of fantastic choir arrangements. Nearly 50 arrangers and over 120 collaborators have converged to show their love for the games. Some are returning Materia Collective Veterans such as Stemage, John Robert Matz and Videri String Quartet while others are newcomers to Materia Collective like Jeff Penny and Danilo Ciaffi.
We would be remiss in highlighting the work of Darren Korb without mentioning his long time collaborator Ashley Barrett who lends her wonderful voice to some of the most memorable compositions in the 3 games. To pay tribute to the singers in the Supergiant Games universe - we feature a number of extremely talented vocalists on EXILE including and definitely not limited to Laura Intravia, Sirenstar and Elizabeth Zharoff putting their own spin on roles of Red from Transistor in their respective tracks. While singers such as Alejandro Espinosa aka wolfman1405 and Stemage lend their talents to the voices of Zulf in emotionally charged renditions of Mother, I'm Here and Setting Sail, Coming Home from Bastion.
The love and attention to the details of Korb's compositions can be heard throughout the album from every arranger and musician, and we hope you enjoy listening as much as we enjoyed making it!
©Ⓟ 2019 Materia Collective LLC
BASTION, TRANSISTOR, PYRE properties Supergiant Games, LLC. Musical compositions by Darren Korb and © 2011, 2014, 2017 Supergiant Games, LLC. and are used with permission. Materia Collective LLC and respective artists on this album are in no way affiliated, associated, authorized, endorsed by, or in any way officially connected to Supergiant Games. All rights reserved.
Track List & Credits
EXILE: A Tribute to Supergiant Games was made possible by the following individuals: