Bits and Bytes
January 03, 2020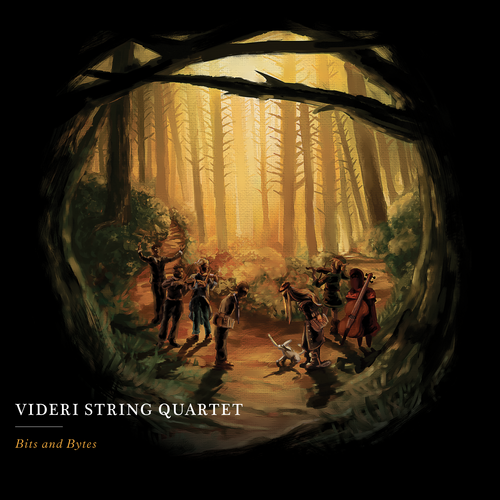 After a long work day, the members of (the) Videri String Quartet discussed how to meaningfully deliver a program with music from video games and the classical repertoire.
They began by choosing which classical composers seemed essential. Shostakovich was the first suggestion, more specifically, the 8th String Quartet. Joseph Haydn too, considered the father of the string quartet (somehow at once truth and over-exaggeration). Dvořák. Britten.
And as the list of classical masters grew, they started listening to examples side by side. Normally, the final sigh expelled at the close of the first movement of the 8th String Quartet by Dmitri Shostakovich famously barrels without pause into a tumultuous burst of notes in the 2nd movement, audibly unfolding from denial to anger.
But this time, it went somewhere new.
The joy of Videri stems from their devotion to the seamless merger of the two worlds. A segue from the first movement of the Shostakovich to Uematsu's "One Winged Angel" is a stroke of genius that can only come from minds familiar with both worlds.
The evening discussion yielded other brilliant pairings and groupings. The ethereal first movement of Benjamin Britten's String Quartet No. 2 melts into the gorgeous folkiness of Dvořák's American String Quartet, perfectly paired with Austin Wintory's music from Journey.
The soaring melodies of Chrono Trigger, the delicacy of Ori and the Blind Forest, the playfulness of Kenta Nagata's music from The Legend of Zelda: The Wind Waker, you'll find all of this in classical music.
And Videri String Quartet will guide you there.
©Ⓟ 2020 Materia Collective LLC under exclusive license from Videri String Quartet
Chrono Trigger, Xenogears, and Final Fantasy VII properties are © Square Enix Holdings Co., Ltd.. Ori and the Blind Forest is ©2015 Microsoft Corporation. RWBY is ©2013 Rooster Teeth Productions, LLC. The Legend of Zelda: The Wind Waker is ©2002 Nintendo. Journey is ©2012 Sony Computer Entertainment. Materia Collective LLC, Videri String Quartet, and affiliated artists are in no way affiliated, associated, authorized, endorsed by, or in any way officially connected to the above companies with respect to this album. Musical compositions are used with permission.
Track List & Credits
Bits and Bytes was made possible by the following individuals: