Devolver Digital® Cinematic Universe: Phase 1 (Original Soundtrack)
June 09, 2019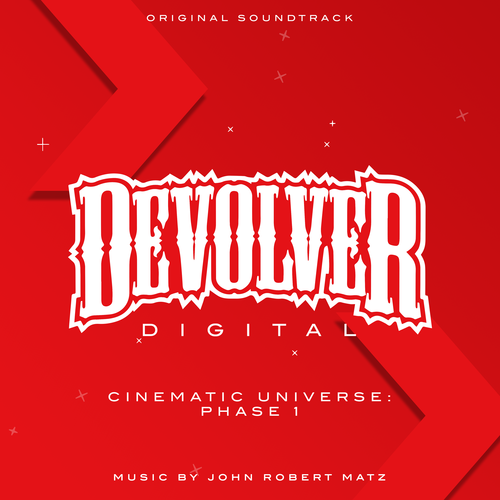 The spirit of Devolver Digital's annual Big Fancy Press Conferences is one of lavish production values and absolutely zero taste. That spirit is mirrored in accompanying musical scores: Featuring an unmatched ensemble of singers and instrumentalists, the three-year compilation soundtrack evolves from corporate jazz-tinged jingles and fanfares to the blockbuster sound of 1980's sci-fi and horror, building an appropriately epic thematic world for Devolver chief synergy officer Nina Struthers. Join her and Devolver Digital on a journey to the Future's Future.
"Don Thacker is a madman. What sane person would think of turning a small indie game publisher's ostensible annual press conference presentation into a roller coaster thrill ride of lore, gore, and infinitely internet-quotable one-liners?" writes composer John Robert Matz.
"I'd like to thank Don and the entire Imagos Films team for creating such a (warped) universe; so wild and groundbreaking to play in. I could not have done this without the wonderful musicians, friends, and colleagues who helped me realize this dream, including the chance to work with Materia Collective to pull out all the stops and bring our biggest musical effort yet to stage in 2019."
©Ⓟ 2019 Materia Collective LLC under exclusive license from John Robert Matz
Devolver Digital and the Devolver Digital logo are trademarks of GHI Media LLC, registered in the US. Special thanks to Don Thacker and the Imagos Films team, without whom this nightmare would never have been birthed. All Rights Reserved.
Track List & Credits
Devolver Digital® Cinematic Universe: Phase 1 (Original Soundtrack) was made possible by the following individuals: