Bound Together: An RPG-Inspired Journey
February 01, 2019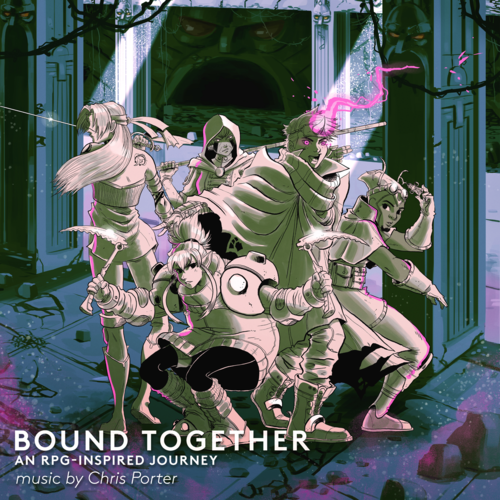 Embark on a grand adventure through a sprawling fantasy world, told through 38 tracks of RPG-inspired music!
Mido's childhood friend is kidnapped from their hometown of Creekwood by a mysterious villain, and he will stop at nothing to get her back. Follow along as our hero travels through a vast, wondrous world: visit quaint river towns, lively border cities, bustling harbors, and snow covered villages. In each of these places, Mido will encounter others who will aid him on his quest. Bound together, Mido and his friends will explore ancient forests, conclaves of thieves, deep earth caverns, thorn labyrinths, crystal caves, and more. Wherever they go, danger awaits them. Battles against enemies both large and small will be fought. Experience the beauty of friendship, the dread of uncertainty, and the sadness of loss. Will the adventurers complete their quest? Through the strength of will, they have a fighting chance. But at what cost?
Bound Together: An RPG-Inspired Journey is the follow-up to 2018's Leaving Home: An RPG-Inspired Journey. This album is much larger in scope than its prequel. I wanted to write music that represents not only towns, cites, and landscapes, but for it to also tell a story of heroes, villains, battles, and a larger quest to be completed. Bound Together is filled with themes and melodies that help paint each aspect of the fantasy world it's a part of: a bold main theme; memorable character themes; lively town and village themes; exciting battle and victory themes; and a large variety of music to accompany the various other locations and situations the adventurers encounter. I hope that as you listen to this album, the details of these characters, their story, and their world begin to take shape in your imagination. Enjoy the journey!
©Ⓟ 2019 Materia Collective LLC under exclusive license from Chris Porter
Track List & Credits
Bound Together: An RPG-Inspired Journey was made possible by the following individuals: