The World is Square
February 14, 2019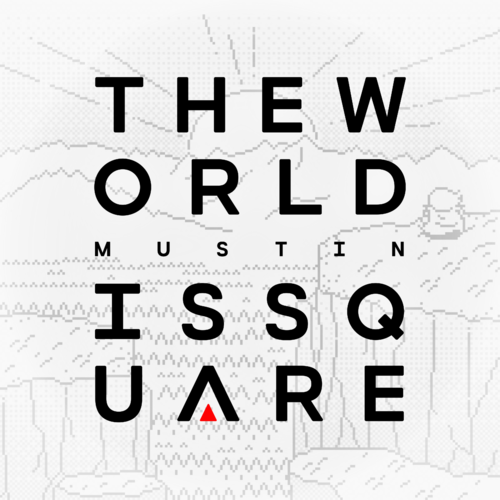 I have had the pleasure of working with so many people on so many projects, form my humble beginnings at OC ReMix and Project Majestic Mix, through being a founder of OneUp Studios and The OneUps, to scoring commercials, making beats for Nerdcore artists and beyond. Somewhere in there I've found pockets of time to work on a solo album--a celebration of my favorite time in gaming: the (then) Squaresoft RPG. Having completed the first track in 2003, this has been a 15+ year project in the making. I realized I was having a hard time finishing it and because there was no deadline and no set list of goals--unlike the other projects I've completed--so I asked Jayson at Scarlet Moon to release this album for me so that I would have some accountability. He agreed, and I was able to see the light at the end of the tunnel.
Thanks to Jayson for helping me rein in a record; Sebastian for his help and encouragement in the release; Frank for putting up with my tenacious mixing requests (you are now Saint Frank, my friend); Jaclyn for recording on that first track 15 years ago (!); Tim, William, Yusef, and Ailsean for their wonderful performances; Elaine for bringing the music to life; Lisa & Jennifer for your inspiring, collaborative performance; Dale for the mixing; Connary for the fantastic artwork (you gave me exactly what I didn't even know I wanted!); Tim S., Brent, Carlito, Michaela, and everyone for their feedback; Jared for letting me use your mic and synth; to my son for his tenacity, my daughter for her spirit, and to my wife for her love, her encouragement, and her seemingly infinite patience with me--you are my greatest inspiration. Thank you to all my fans for your loyalty and your kindness--I hope you enjoy my first true solo outing. Thank you, all. MUSTIN
©Ⓟ 2019 Materia Collective LLC under exclusive license from Scarlet Moon Records
Scarlet Moon Records, Materia Collective LLC and respective artists featured on this album are no way affiliated, associated, authorized, endorsed by, or in any way officially connected to the game developers or publishers with respect to this album. Musical compositions are used with permission. Mechanical licensing facilitated by re:discover, Inc. d/b/a Loudr.
Track List & Credits
The World is Square was made possible by the following individuals: